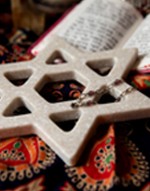 Growing up at a Reform congregation in Southern California, Shabbat was never a part of my family practice. If there was a break between dance recitals, hockey games, plays, and whatever else, my parents might schlep me and my two siblings to synagogue for family services. Even in high school, when I sat on Regional Board for my NFTY region, Shabbat was not a part of my life.
Camp Shabbat, however, was different; that was everything. Dressed in white parading through camp, reflecting on the week with friends, singing and dancing — that is what I looked forward to all year. The immersive experience of being completely present in the holiness of Shabbat.
In the many years since I attended Jewish summer camp, I have been craving that experience. I have been searching for the awe that Shabbat can provide and have yet to find it in my adult life. Little did I know, it would take a trip to Berlin with the Germany Close Up program to find it.
We had been in Berlin for almost a week learning about German Jewish history, the Holocaust, and the current state of affairs in Germany, and I was more than burnt out — physically, emotionally and spiritually. I felt lost in my thoughts and lost in my soul. But then we arrived at Synagogue Fraenkelufer, a nondescript building that would be easy to pass by if it weren't for the towering blue and white painted columns in the front. It was here that we were greeted joyfully by a strong-willed, whole-hearted Jewish community.
As we shuffled in, women sitting in the nave while men sat in the main pews, I could hear the congregation beginning to sing the familiar tune of L'cha Dodi. The sound built, growing louder, and it was as if a time machine took me back to camp. There I was, in my mind's eye, dressed in white, parading through camp, immersed in Judaism. I felt the tune deep in my soul, and as I rose to greet the Sabbath Bride I was brought back to Germany. This is a community that has been attacked, destructed, painfully hurt, and even disappeared for a time, but here they stand, strong, present and thriving.
As the service ended, our cohort was welcomed for dinner with the community. The couple I sat with told me about their grandchildren, their parents who are survivors of the Shoah, and their love for their community and sense of place. As I spoke through tears telling them about my daughter and how much I missed her, we held hands and cried together. They knew that these tears were not only about being apart from my family, but about feeling connected to my Jewish faith and heritage in a way that I had not felt in years.
When dinner ended the singing began, a reminder that there is always joy to be found. Again, the sound built, and again I was transported, I cried tears of joy as I found my place, my makom, in Germany. I was home.
The blessing of being Jewish is that no matter where you are in the world you have a Kehillah Kedosha, a holy community. It is with great sadness that I heard about the fatal shooting on Yom Kippur in Halle, Germany. This news broke my heart, and also reinvigorated my love for the German Jewish community that I personally experienced.
We have to remember, that whether you are in Pittsburgh, Pennsylvania; Poway, California; Halle, Germany; or any community affected by gun violence, we can find a sense of place, makom, together. We can find joy, together. We can find holiness, together.
Molly Hess is TribeKC's Community Connector