Jewish Federation of Greater Kansas City's Leadership Tomorrow summer internship program recently wrapped up its seventh year. Fourteen Jewish college students spent the summer working with non-profit organizations across Kansas City, gaining real-world work experience, personal and professional development, and valuable mentorship and networking.
This summer, due to continuing COVID-19 concerns, the program was adapted to be online-only.
"We turned all of the weekly professional development days virtual and we made sure that each internship placement was capable of offering remote work opportunities for the interns," said Leah Mueth, Jewish Federation's Engagement & FRD Associate and Leadership Tomorrow program coordinator.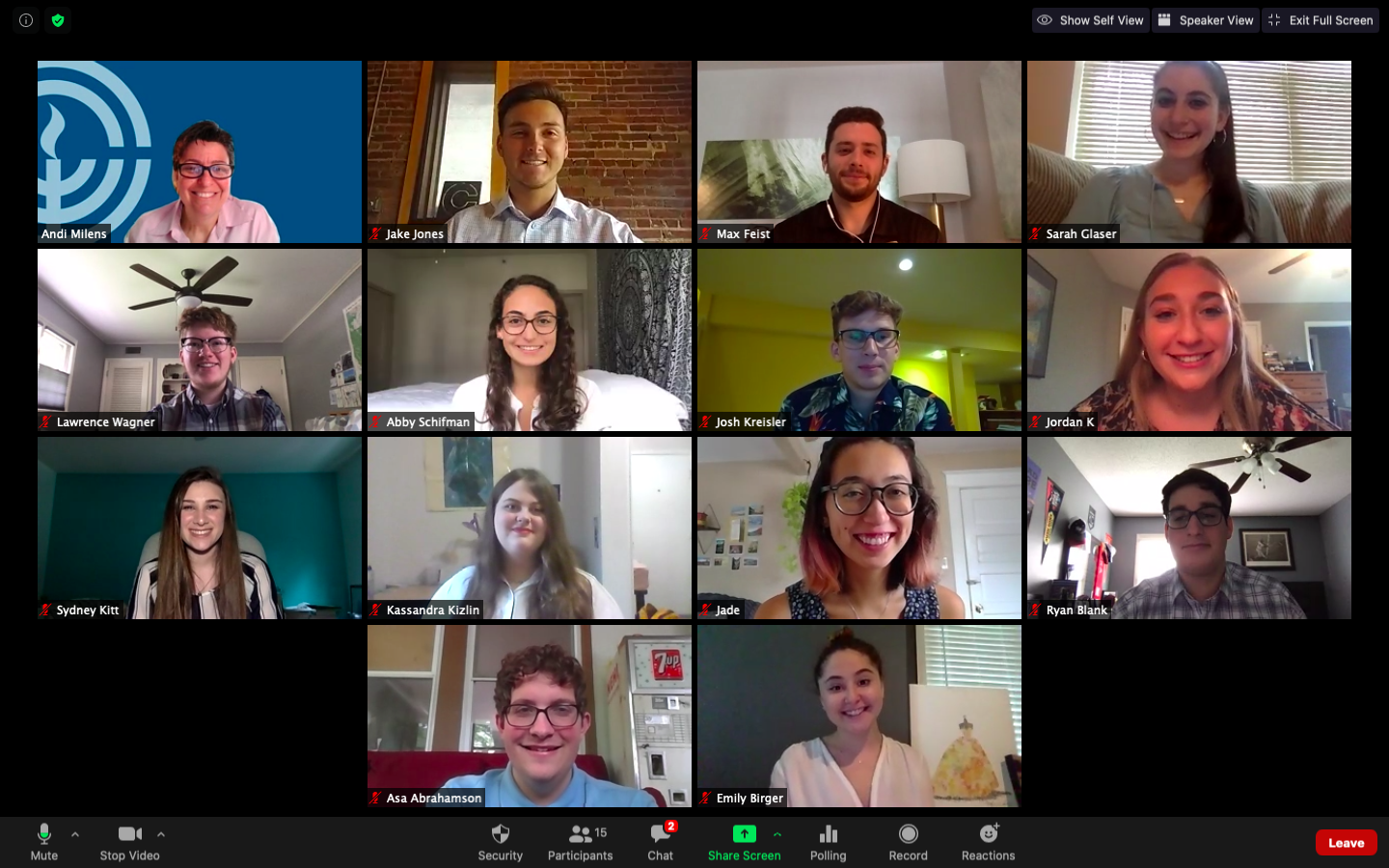 Interns also had regular virtual meetings with individual mentors, an important part of the program that provides them with guidance and advice from community leaders.
"I've felt very fortunate to have had this opportunity," said Lawrence Wagner, who interned with Jewish Federation's marketing department. "While many of my friends had their summer jobs and internships cancelled, Leadership Tomorrow worked hard to make sure I had an experience that was safe and valuable."
Mueth said one benefit of going virtual was that it allowed the interns to learn about the importance of adaptability and also how to self-motivate to get their work done when there isn't anyone close by to check their progress.
Other skills the interns said they gained this summer included time management, how to communicate more professionally and making professional connections.
"One thing I learned was that even the small things contribute to the bigger picture, and when you  make a mistake there's always a positive side to the mistake and there's always something that can be worked out," said Jordan Kaseff, who interned with Youth Ambassadors.
In addition to their internship placements, the interns were split into groups to research, construct, and present a grant proposal for a selected Kansas City non-profit.
Instead of the usual annual luncheon, this summer's program culminated with Zoom presentations of the interns' grant proposals. The interns presented to Leadership Tomorrow supervisors, mentors, funders and advisors, as well as representatives from each non-profit. Generous donors provided $15,000 to be distributed to the three non-profits; the amount of money received by each was influenced by the quality of the presentations. This year, $4,000 was given to Newhouse Shelter; $5,000 to Community LINC; and $6,000 to Big Brothers Big Sisters of Kansas City. 
Leadership Tomorrow is a nine-week, paid internship program offered to Jewish college students through Jewish Federation. It was founded in 2013 by a group led by Irv Robinson to expose students to different ideas around entrepreneurship, leadership, and philanthropy, and to encourage strong Jewish leadership in future generations.
To date, there have been 72 students and 22,000 hours of work provided to the community across 37 different nonprofits. The program has awarded $92,000 in grants to 17 area nonprofits.
Do you know a Jewish college student who would benefit from this program? Applications for Leadership Tomorrow 2021 will open in December of this year. For more information, visit jewishkansascity.org/leadershiptomorrow or contact Leah Mueth, leahm@jewishkc.org.